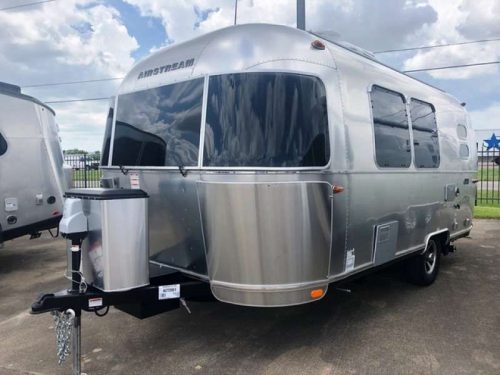 Airstream has re-introduced its Caravel line of travel trailers, and the 2020 model is immediately recognizable as an Airstream with its polished aluminum exterior. The Caravel is offered in lengths of 16, 19, 20, and 22 feet. Airstreams are generally heavier than some fiberglass trailers, but the 16-foot model can be towed with a mid-size SUV with its 3,200-pound empty weight as long as you don't carry a lot of extras. The largest 22-foot Caravel has a 4,000-pound empty weight and a GVWR of 5,000 pounds, thereby needing a larger SUV or pickup to safely tow it. Each model has a unique floor plan, allowing buyers to choose the model best suited to their camping style.
Airstream is known for loading up its trailers with features other manufacturers consider options. In fact, the only options available on Caravels is a window awning package, solar panel, convection microwave to replace the normal one, and optional Tungsten or Pewter decor choices. Everything else is standard including air conditioning, manual patio awning, LED lighting in most places, never-adjust brakes, powered hitch jack, 1000W inverter, and much more.
The Airstream line is known for stable towing behavior at all speeds. The Caravel line will be convenient for first-time or low-time trailer owners because if its ease of backing into camping spots. Four manually adjustable leveling jacks make easy work of making sure the trailer is level in your camping spot. Once you are set up by plugging in the 30-amp electric service, you can enjoy such features as onboard WiFi, Bluetooth, gas stovetop, flat-screen TV, and a memory foam mattress on the bed.
If you are ready to travel in your hotel room called the 2020 Airstream Caravel, contact us at any of Holiday World's five Texas locations or Las Cruces NM and check out our great deals!